💜 Exclusive Piercing Offers at Punktured! 💜
At Punktured, your safety and contentment are paramount. Be at ease knowing our skilled piercers solely employ sterilized tools and adhere to rigorous hygiene standards.
Rush in to snag these rad piercing deals, blazing through for a hot minute at Punktured today! 🌈💉💫
For the ultimate in-store experience, we recommend contacting the store in advance to ensure seamless piercing arrangements. Piercing schedules and availability may be influenced by foot traffic, staffing, and more.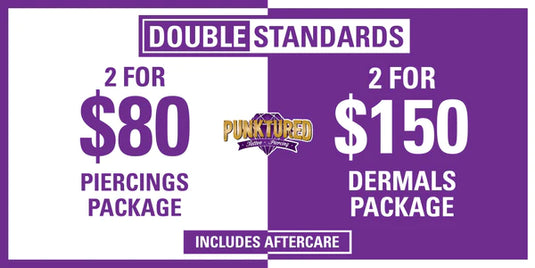 Double Standard Piercings
The Double Standards piercing deal is an ongoing offer that gives you the chance to get:
2 Standard or Dermal procedures
2 pieces of Standard Jewellery (Surgical steel for Standard procedures and Titanium for Dermal procedures)
100ml bottle of Saline Aftercare
View More